The Ministry of Foreign Affairs has today issued a statement to warn the Nation Media Group over an article on push and pull over President's new envoy.
In the statement, they  noted that their attention was drawn to their headline 'push and pull over President's new envoy' in their paper which they say is a compilation  of falsity.
There has been ongoing rumours that part of Uhuru's new envoy  were rejected in the countries that they were assigned to.
The Ministry clarified stating that Kenya has never had any envoy rejected by any country. And that is the reality with this cohort Of Heads Of Mission.
They also added that all the host countries are ready to receive them and have begun to do so.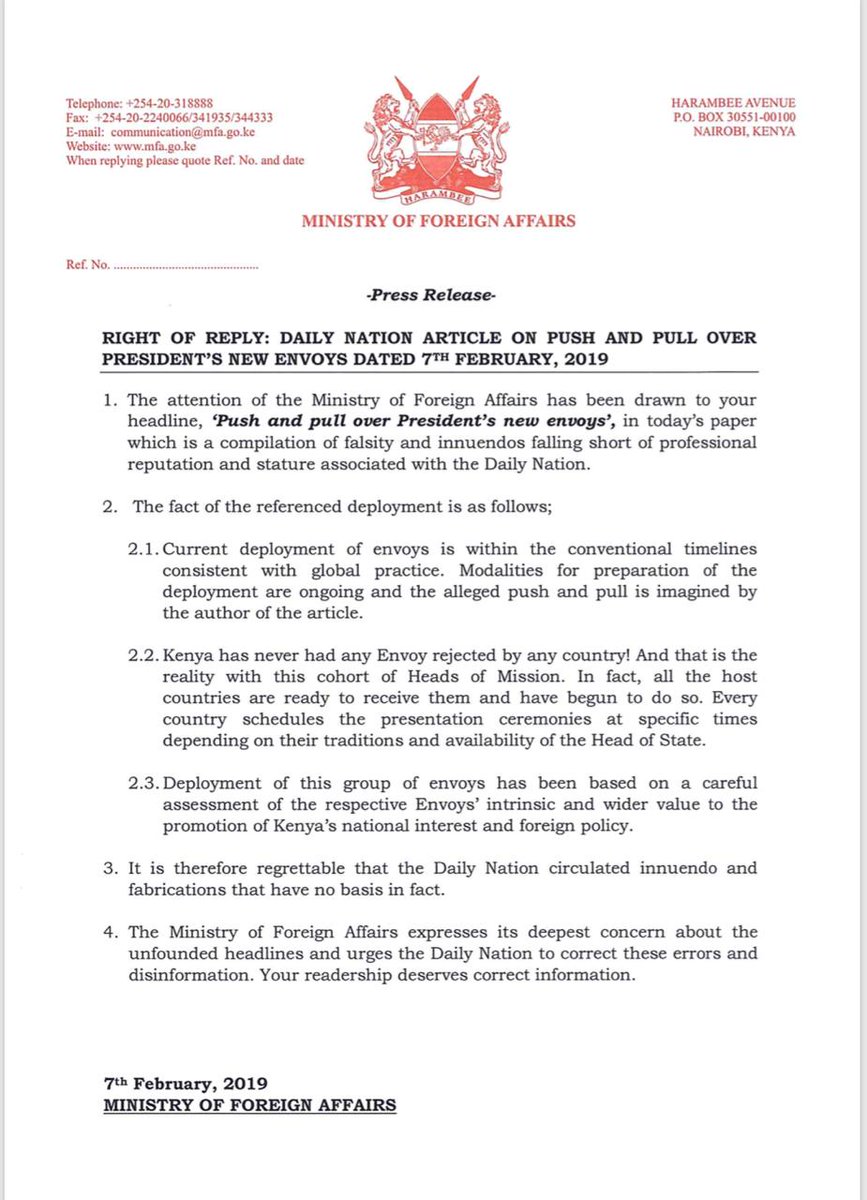 "Every country schedules the presentation ceremonies at specific times depending on their traditions and availability Of the Head of State.
The current deployment of envoys is within the conventional timelines consistent with global practice.Modalities for preparation of the deployment are ongoing and the alleged push and pull is imagined by the author of the article." reads statement in part
The Ministry also confirmed that the deployment of this group of envoys has been based on a careful assessment Of the respective Envoys' intrinsic and wider value to the promotion Of Kenya's national interest and foreign policy.
They also shared their disappointment  that the Daily Nation circulated innuendo and fabrications that have no basis in fact.
The Ministry of Foreign Affairs  has therefore urged the Daily Nation to correct the errors and disinformation in their article saying that their readership deserves correct information.
Here is the full statement
Right of Reply over President's new envoys. pic.twitter.com/JLPBOLQw4J

— ForeignAffairsKenya (@ForeignOfficeKE) February 7, 2019