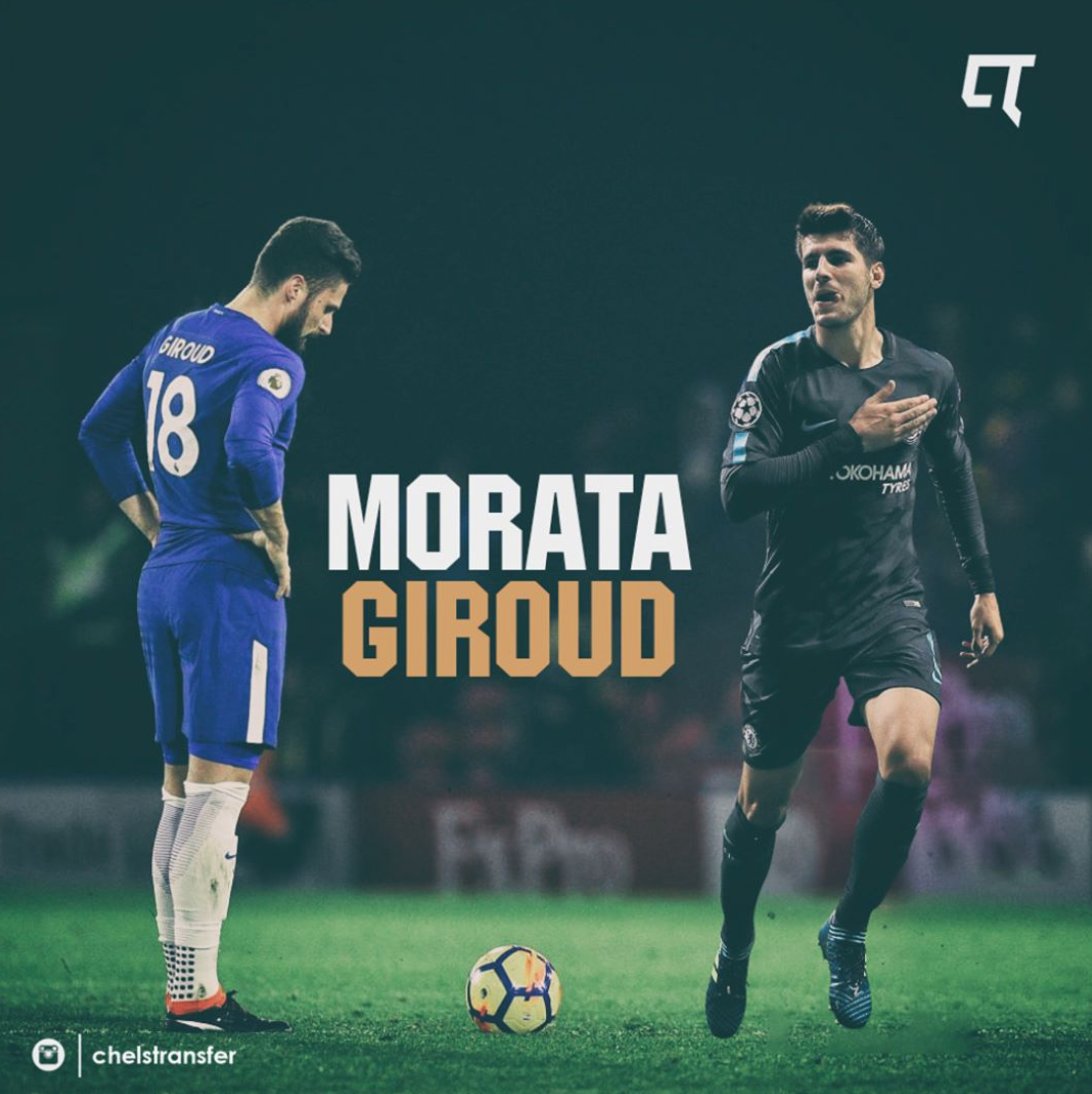 Chelsea have fallen off the pace at the top of the Premier League following an excellent start – and one of the major questions has been whether Alvaro Morata or Olivier Giroud should be leading the line.
The Blues are now 10 points behind leaders Manchester City and are looking likely to be battling with London rivals Arsenal and Tottenham for Champions League qualification.
One of the problems in recent weeks has been the issue of goals. Morata hasn't scored in his last four league appearances and Giroud has just one league goal all season. Who should be leading the line?
Chemistry has already been built. ?

Should it be Alvaro Morata or Olivier Giroud starting? ? pic.twitter.com/kZfItbzOl8

— Absolute Chelsea (@AbsoluteChelsea) February 14, 2018
Goalscoring

Morata's overall Premier League record is 16 goals from 45 appearances, at a rate of 0.36 goals per match.
Giroud has a similar return, albeit with a larger sample size. He's made 205 appearances, scoring 77 goals at a rate of 0.38 per match.
But this season, Morata leads in the goalscoring stakes. The Spaniard has endured a lot of criticism for his finishing, but his return of five goals from 14 appearances is reasonably good. That works out at 0.54 goals per 90 minutes, which at slightly better than one in two is old-fashioned par.
However, at this point last season, Morata had nine Premier League goals and four assists before injuries and personal issues saw his contributions fall off a cliff. He scored just two league goals after Christmas.
After such a run, and an unerring ability to squander big chances that still remains, there's a sense he can't be relied upon to lead the line.
The stats somewhat refute his reputation as a profligate finisher, though. He has a rate a 0.32 conversation rate in terms of big chances, compared to Giroud's 0.18. His shot conversion is also better – 0.54 to Giroud's 0.18.
Giroud has just one league goal from 12 appearances this season, albeit many of those were late cameos. Still, per minutes that's a return of just 0.18 in the Premier League.
At this point in his career, he's unlikely to ever match the 21 goals he scored in Montpellier's unlikely title win, or even the 14 per season he'd average at Arsenal.
The non-goalscoring striker is something that can still be of use, however, as France found with Giroud at the World Cup. He failed to score in Russia but was nevertheless trusted by Didier Deschamps to play furthest forward.
Unlocking Hazard

Morata is yet to provide an assist this season, whereas Giroud has provided four assists, two of which were for Eden Hazard for his brace against Cardiff. The pair linked up extremely well in that match.
From the soundbites, Hazard comes across as Giroud's number one fan.
"Olivier's a target man, maybe the best in the world; I think so," said the Belgian after the Cardiff match. "When he gets the ball he can hold the ball and we can go in deep with him, so for us it's a pleasure to play with him."
He showed diplomacy when addressing Morata, but he wasn't quite as effusive in his description: "When Alvaro was playing it's completely different, he's a different player than Olivier, but they both have great qualities, so I'm happy to have good strikers in the team."
1) Alvaro Morata was bought for 20m Euros at the age of 21 from Real Madrid. pic.twitter.com/1gDNp3BscL

— WAllegri_SZN (@WhyAlwaysLukaku) December 28, 2018
Hazard remains top scorer with seven goals, but he hasn't found the back of the net in over two months, a run stretching back 11 appearances for club and country.
It coincides with Morata's reintroduction as Chelsea's starting striker, back in mid-October's 2-2 draw with Manchester United.
Giroud averages 2.01 chances created per 90 to Morata's 0.75, 4.2 aerial duels to Morata's 2.7 and is caught offside a lot less often – 0.37 times per 90 compared to Morata's 1.93.
A Sarri striker
As was evident in the fallout from Chelsea's first defeat to the season against Tottenham, Mauricio Sarri is an ideologue who is unwavering in his belief of the same players carrying out a particular brief in his system.
The Italian has raised eyebrows by playing N'Golo Kante further forward, asking more of the Frenchman in possession and utilising him differently to the role in which he won league titles with Leicester and Chelsea, the latter of which also earned him the Player of the Season award.
At Napoli, Sarri was reluctant to rotate or use squad depth and largely relied on a trusted core of players in last season's Scudetto race with Juventus.
There are parallels here with his striking options. Arkadiusz Milik missed a large portion of the season through injury but when fit was usually used as a substitute, making just three Serie A starts last season compared to 12 appearances off the bench.
He's similar in style and physicality to Olivier Giroud, whereas positionally it looks like Sarri is trying to recreate Lorenzo Insigne and Dries Mertens' partnership with Hazard and Morata operating between the left wing and central areas.
Less successfully, so far. But from his track record at Napoli, don't expect Sarri to deviate from what he believes is best.