The nation that is already geared in a celebratory mood due to the festive season was in shock after hearing news of the fatal accident that has once again claimed many Kenyan lives.
Eleven people died on Friday evening when a matatu and a petrol trailer collided at Kaburengu on Webuye-Eldoret highway in Kakamega County.
Bungoma County Police Commander, Francis Sang, said reports indicated that the accident took place after the brakes of the trailer failed.
The petrol spilled to the road and firefighters from the county were called to prevent a fire.
The drivers of the vehicles and a pedestrian were among the victims who died at the scene.
Police towed the wreckage to Webuye Police Station.After the unfortunate tragedy, a female survivor is still in despair due to missing child.
Bilha Sumba doesn't know the whereabouts of her son Godfrey Shunye, 6, having last seen him before a fuel truck crashed on a matatu in Kaburengu on Bungoma highway killing 14 people.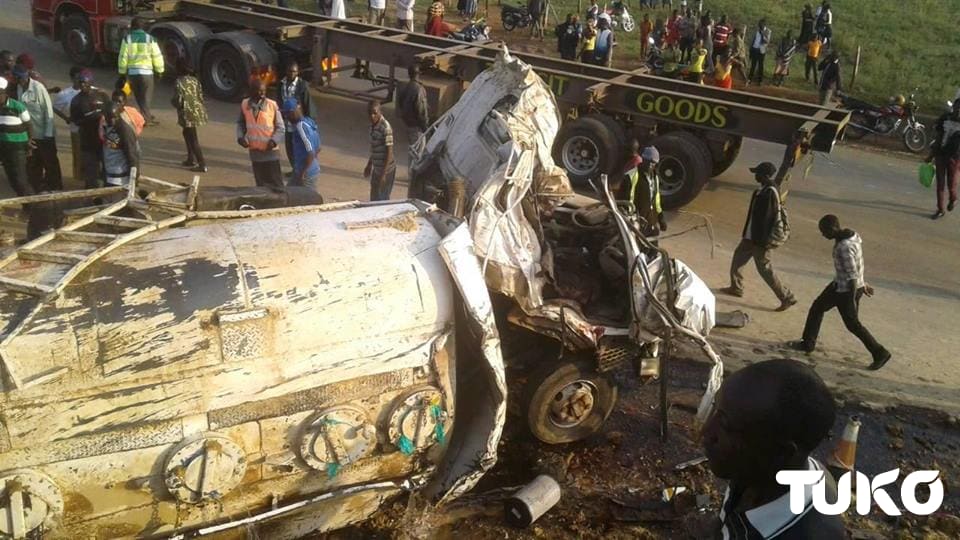 Bilha says she had just sat in the matatu, which was picking passengers heading to Eldoret, and noticed a truck heading to their direction in a dangerous swerve.
She had come from Kakamega and was to pick the matatu to finish her journey. Then in a snap, she found herself in hospital, but without her son.
The woman, who is admitted to Webuye hospital after the Friday incident, said she was yet to be briefed on the status of her son. Hospital authorities said they will give her the information of the son's death after she is stable.