Dark times have hit Somalia as blast takes away the little peace they were enjoying amidst ongoing fights with terrorist groups in the country.
Two explosions hit Somalia's capital, Mogadishu on Saturday, killing more than a dozen people and wounding several others, police said.
The al-Qaeda-linked al-shabaab group, which often targets Mogadishu, claimed responsibility for the attack.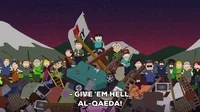 The first car bomb detonated at a checkpoint near the national theatre, sending thick white smoke billowing into the sky.
The second explosion took place just minutes after, reportedly in the same area.
Those killed include soldiers as well as three staffers from the London-based Universal TV station, said police Captain Mohamed Hussein. A prominent journalist, Awil Dahir Salad, was among the fatalities, he added.
Ahmed Abdi, another police officer, said the first car bomb exploded at a checkpoint some 400 metres from the president's residence.
Police said politicians and other officials had been travelling nearby on what is a business day in the Horn of Africa nation.
Mohamed Bulbul, a journalist based in Mogadishu, revealed to reporters that Mohamed Tulah, the deputy governor for security in Somalia's Benadir region, was wounded in the first blast.
"Government officials are stationed near the area and it is a very guarded place. From what we know, the security bomber hit the security checkpoint," he said.
Images circulating on social media showed destroyed vehicles and debris littering the streets.
"At first I saw a vehicle driving to and fro, then we tried to stop people walking here and there, and then in the blink of an eye the vehicle exploded, causing havoc," traffic police officer Mohamed Harun narrated.