Days after going public with her relationship with Diamond Platnumz, fans are now asking Tanasha to tone the lovey-dovey business down.
via @PerilOfAfrica Diamond confuses wedding date with Kenya vixen Tanasha: By Nairobi News Bongo star Diamond Platnumz has left his fans in doubt whether his upcoming wedding to Kenyan video vixen Tanasha Donna will take place as planned. The singer… https://t.co/TvMGCYWfFx pic.twitter.com/ftjTedXDuJ

— MarthaLeah Nangalama (@mlnangalama) December 18, 2018
Some are even urging her to be like her Kenyan counterpart Amina Khalef who is married to Ali Kiba. They believe that she should behave more like Khalef and keep her relationship private.
Diamond and Tanasha Donna are dating. 👀

— Ninja Samurai 忍者侍 (@verbstract) December 16, 2018
"Nasemajee do it like Amina Kiba…chini ya maji but with evidence," read the comment from one esther_luzenja.
Tanasha then responded with "Hey sis, here's the thing. I wasn't born to do everything like everyone or anyone else… Otherwise, I'd be where everyone is… I like to be different and be my authentic true self."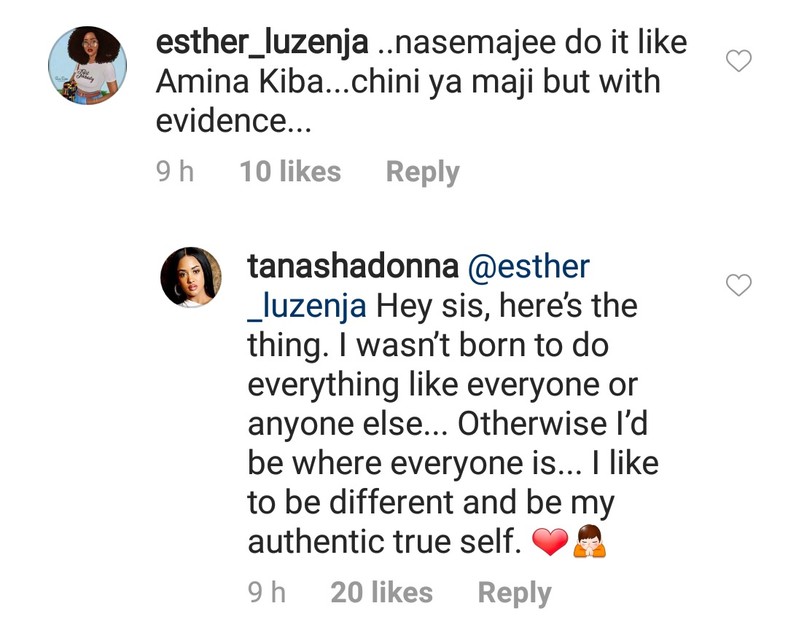 Diamond recently disclosed that he will be marring the NRG presenter on the day of love, Valentine's Day. This will be exactly a year after Zari called off their relationship.
https://www.instagram.com/p/BrgS_L6hXHF/
"I have arranged for my wedding to be on Valentine's Day 2019. Valentine's Day will be on a Thursday so we will have wedding celebrations that will last till Sunday. That's what I have planned so far, I will inform you of any changes," he said on Wasafi TV.
#Tanzania Bongo star Diamond Platnumz planning to marry #Kenya video vixen Tanasha Donna on Valentine's Day 2019.

He instead writes: "We unajua kias gani naisubiri Father, 14/02/2018 lions wedding." pic.twitter.com/dgg6TflXgo

— Rogers Atukunda (@rarrigz) December 18, 2018