Jackline Mwende, came in to the limelight in 2016 after she was involved in domestic violence where her hands were chopped off by her husband a story that caused uproar online and offline.
Mwende was then taken to hospital where she was given prosthetic limbs, which were acquired at a cost of Ksh10 million.
But now Ms. Mwende has ditched  her  most expensive hands  claiming they are "expensive to maintain".
While speaking  to one of the local TV station Mwende said,  "The limbs were to be flown to South Korea for maintenance recently; and that comes at a cost. I currently do not have the money they are asking for. So, I decided to ditch the arms because they are not of help to me."
In August 2016, Electronics Company, LG, offered to buy Jackline Mwende the prosthetic limbs.
LG also committed to covering the woman's surgery while Governor Alfred Mutua's wife, Lilian Nganga, pledged to get Ms Mwende free medical care, including counseling.
Ms Mwende currently runs a mid-scale business at her home in Kathama Village, Machakos County, on top of getting Ksh25, 000 every month from a philanthropic non-governmental organisation. The NGO also built Ms Mwende a 3-bedroomed house.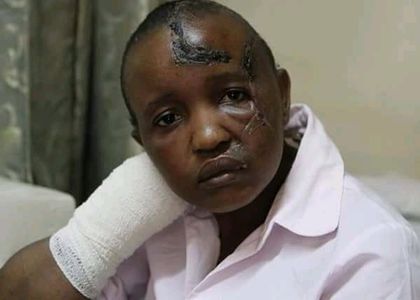 In July 2016, Ms Mwende's story grabbed media headlines, when her husband, Stephen Ngila, allegedly chopped off her hands after he suspected her of cheating and "failing to conceive".
Mr Ngila was arrested and charged with attempted murder.
He remains remanded as the case is still in court.