In the last game of the group stage of Champions League, Bayern Munich played against Ajax away. There are many ups and downs in the game, and it ends with a draw of 3-3. The Bundesliga giant gets the first place in the group, which is undoubtedly happy for the team. However, in the game, the Munich star Thomas Muller was directly penalized for a dangerous foul and was sent off by a red card.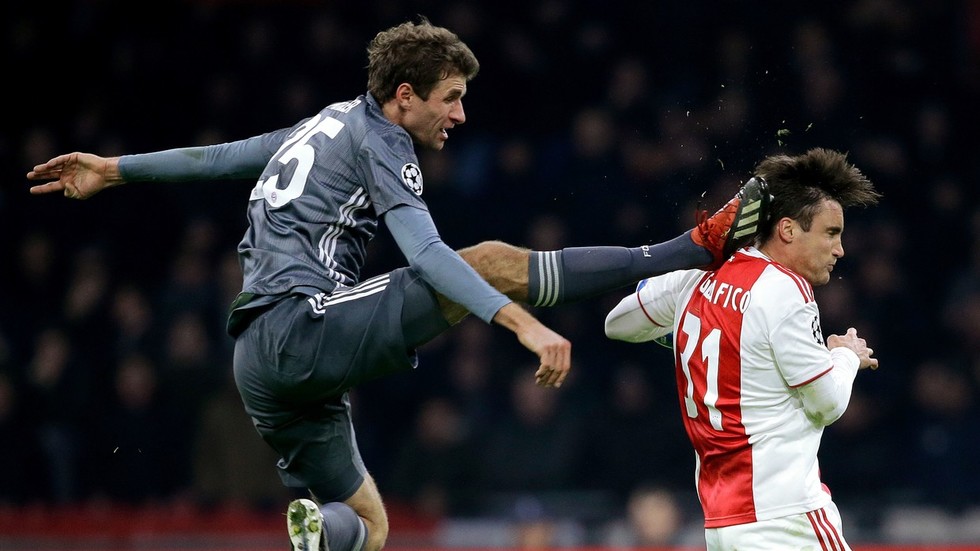 Originally, this game was a milestone for Muller. This is his 105th game representing Bayern Munich in the Champions League. He tied the record of the former captain Lahm and became the player who has most appearance in Champions League in the history of the Bayern club. This milestone game did not bring him good luck. Muller not only did not help the team on the offensive, but also received a red card and was sent off.
In the first half, Lewandowski scored a goal quite early. Bayern led at halftime, but in the second half of the game, things changed. Tadic scored and equalized the score, Ajax 1-1 Bayern Munich. After Ajax's player Wöber's was sent off by a red card because a foul, having one more player, Bayern Munich could have got a big advantage. However, when the situation was good, Muller's foul made Bayern lose that advantage.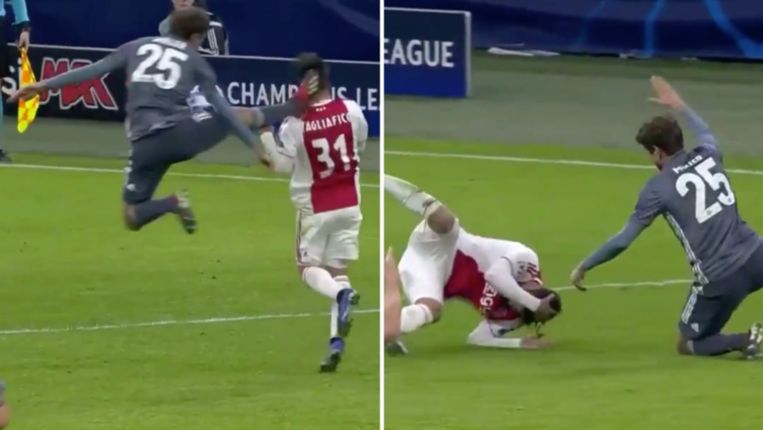 In the 75th minute, Ajax kick a long shot foward. When Muller tried to get the ball near the center line, he did not see Ajax player Tagliafico, who was already in the right position to get the ball. Muller, who is quite tall, jumped and raised his leg to try to get the ball. But he kicked on Tagliafico head heavily.
The unlucky Tagliafico was directly kicked down by Muller, and his head immidiately started to bleed and had a terrible wound. Ajax's team doctors quickly went to him and stopped bleeding. After the treatment, the game can continue.
After Muller's dangerous foul, the presidents of Bayern Munich, Rummenigge, appeared to be very shocked. He couldn't believe Muller's rude foul just now.
With Muller's character and the playing style on the pitch, he doesn't have too many foul. This rude foul may not be intentional. Immediately after he got up from the ground, Muller went to Tagliafico, who was knocked down by him, and cared about his situation.
When the referee saw Muller's foul, he did not hesitate to take out the red card and sent Muller off. But it is surprising and confusing that Muller put on an unspeakable "mysterious smile" after receiving the red card. Maybe it is a smile for bitterness. It is still unclear that if Muller's red card will give him a penalty for additional suspension.