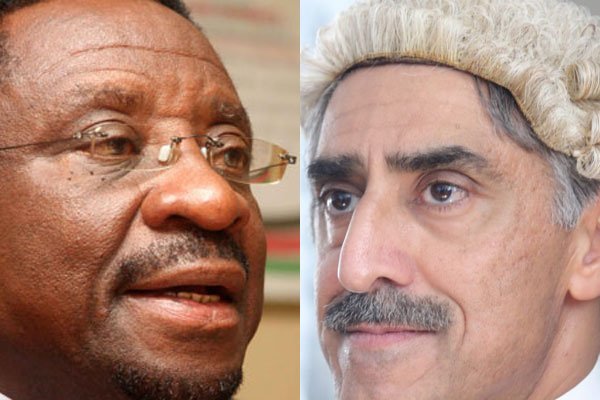 In Kenya, there is no other person well versed with the constitution like Lawyer James Orengo. Orengo is a walking constitution. Facing him in court is like fighting a losing battle.
DPP Noordin Haji realized that he needed to hire a more formidable person to tame Orengo in his case against DCJ Philomena Mwilu. He went for Britain based Khawar Qureshi.
Kenyans now expect a battle of titans when Orengo and Qureshi face off in what is shaping up to be one of the most memorable tussles in court.
And already, the two have started with trying to block each other from the case. Orengo has opposed the DPP's engagement of Qureshi. Orengo says Qureshi, lacks certificate of admission.
He told the five-judge bench that the gazette notice effecting the UK lawyer's appointment stated that he was only to prosecute criminal trials at the chief magistrates' court. Orengo said the foreign prosecutor has no jurisdiction in challenging Mwilu's prosecution at the High court.
But in a dramatic turn of events, Deputy DPP Dorcas Oduor has also applied for the disqualification of Orengo from the matter on the basis that as a Senator, he enjoys parliamentary privileges to quiz the DPP.
The court directed the DCJ to file an objection to the appointment of Qureshi's appointment. We don't know what will happen next but we hope the two famous lawyers can meet in court.
Mwilu is facing charges of abuse of office, failure to pay stamp tax, improperly obtaining Sh12 million from Imperial Bank, and obtaining security for a loan by false pretence.
The bench consists of Hellen Omondi, Mumbi Ngugi, Chacha Mwita, Francis Tuiyot, and William Musyoka.