The drama Members of County Assembly have shown Kenyans is enough to script an entire season of a TV series. Barely a week after Homa Bay County Assembly Speaker Elizabeth Ayoo's office was broken into and sprayed with what police say is livestock pesticide,  22 MCAs from the county have now threatened to resign.
But how will they resign when they were elected by the people?
The MCAs who are friends to embattled Speaker Elizabeth Ayoo today said that they are ready to resign next week and pave way for fresh elections following the constant wrangles in the Assembly. Led by Assembly Chief Whip Richard Ogindo, the MCAs said they will not continue to earn a salary and allowances as ward representatives for no work done for the electorates.
Mr. Ogindo said that the legislators were ready to quit and leave the their rival camp of over 38 members to continue earning salaries and allowances for no job done at the expense of development.
Speaking while addressing the press at the Assembly compound, the Chief Whip said that Homa Bay County residents are disappointed with the county lawmakers for their frequent battles in the county assembly instead of focusing on service delivery.
On her part, nominated MCA Sophie Koweje said that it didn't make sense to suspend the entire County Assembly because of the misconduct of a few MCAs. She further said that they would present their resignation letters to the office of the Speaker in the coming week so that their opponents can continue transacting House business instead of fighting for power.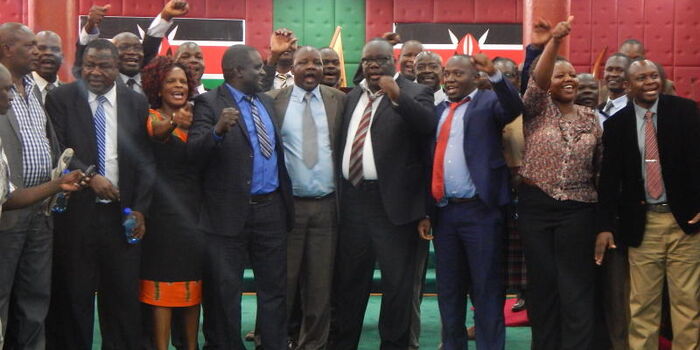 Kojwach MCA Joan Ogada called for the dissolution of the entire county leadership to allow IEBC give voters a fresh opportunity to elect new leaders. Ogada accused Governor Cyprian Awiti and his deputy Hamilton Orata of failing to act as mediators between the two warring factions of MCAs derailing House business.
Do you think fresh elections can be conducted in Homa Bay county?