George Herbert Walker Bush led the U.S. to a swift and decisive victory in the first Persian Gulf War and presided over the peaceful dissolution of the Soviet Union and unification of Germany, before a painful recession cost him a second term as president.
He died at age 94 at on Nov. 30. His wife of more than 70 years, Barbara, died at the age of 92 earlier this year.
WATCH: @ABC NEWS SPECIAL REPORT — George H.W. Bush, the 41st president of the United States, has passed away at the age of 94.

A look back at his life and legacy: https://t.co/M1yovbRUKj pic.twitter.com/QMBRdirZze

— Good Morning America (@GMA) December 1, 2018
Mr. Bush was the last American president to serve in World War II, a fight that helped shape his life and the lives of many in his generation. He went on to build a sterling resume—businessman, member of Congress, envoy to the United Nations and China, head of the Central Intelligence Agency—before becoming Republican Ronald Reagan's vice president in 1980 and then succeeding him in the White House in 1988.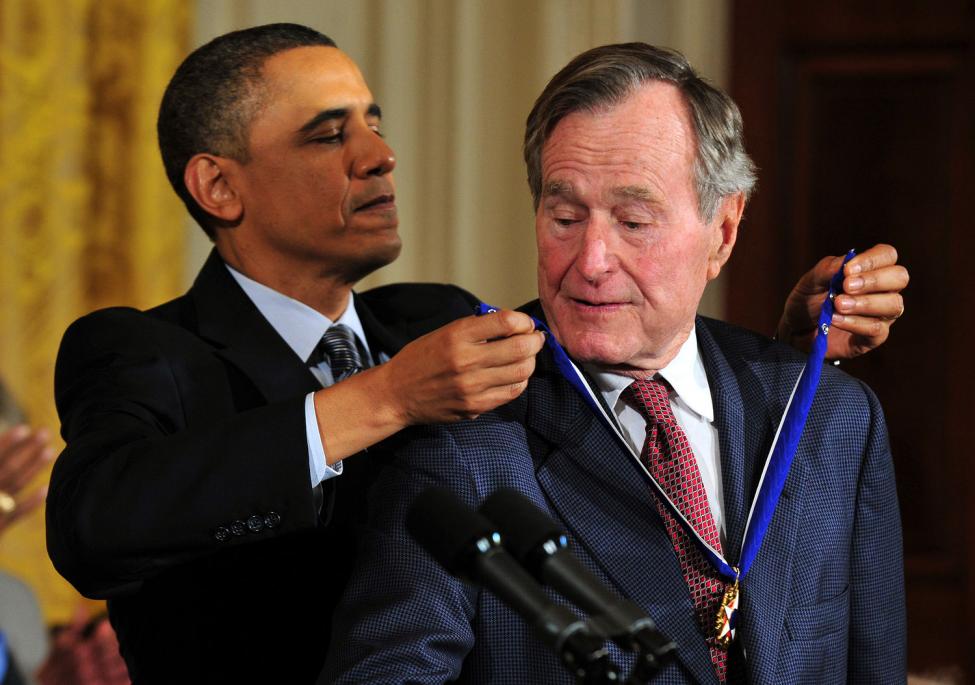 He lost his bid for re-election to Democrat Bill Clinton in 1992, after a campaign in which he was hampered by two years of disappointing economic performance and an insurrection among his own party's conservatives over a decision to raise taxes. The loss was a bitter personal disappointment, but one he handled with the kind of grace that allowed him to become friends with Mr. Clinton in later life.
BREAKING: Former US President George H.W. Bush has died. He led through a time of sweeping global change, including the collapse of the Soviet Union. He was 94. https://t.co/PEZ1F36xDh pic.twitter.com/zDvUTYLU8X

— CNN (@CNN) December 1, 2018
In subsequent years, historians have been far kinder regarding the Bush presidency than were voters at the time. Mr. Bush also won some degree of vindication when his eldest son, George W. Bush, won the White House in 2000, making Mr. Bush the only American since John Adams to be both a president and father of a president.
A World War II vet. A congressman. A vice president and president. George H.W. Bush's service to his country will be part of his legacy – along with his fierce devotion to his wife of 73 years, Barbara.

Take a look at his life: https://t.co/0Xka0XEAjZ pic.twitter.com/H16TSdFhOS

— POLITICO (@politico) December 1, 2018
George H.W. Bush was born June 12, 1924, in Milton, Mass. His father, Prescott Bush, was a successful Wall Street executive and, later, a U.S. senator from Connecticut.
The world has joined America to pass their condolences for the life well lived of former US president who fought a successful war in the country's liberation.