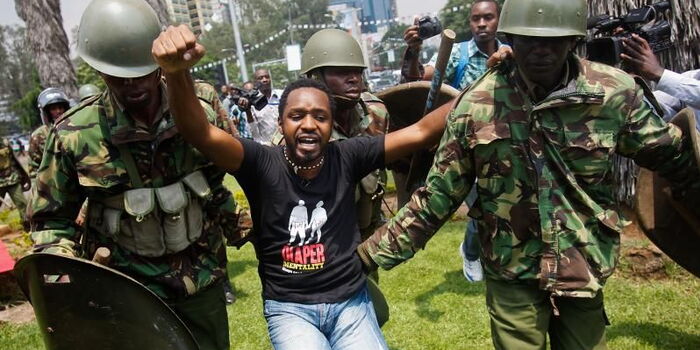 Activist Boniface Mwangi who has earlier on trended on his arrest at Gilgil during NYS parade pass out has taken to twitter to reveal his dusty face after getting back from Gilgil via boda boda and its hilarious.
How l look like after taking a boda boda ride in Gilgil. @Ma3Route pic.twitter.com/rKlVmmPfLZ

— Boniface Mwangi (@bonifacemwangi) November 16, 2018
One user commented and involved a masai comment that almost led to a disagreement with another masai twitter user who didn't fail to give him a reply.
Ukienda kuosha USO ile matope itatoka itatosha kujenga manyatta ya masai

— EDDIE ROTICH (@RotichEddie) November 16, 2018
Maasai don't construct their houses from mud. Education is free. Acquire some!

— Sammy Ole Oinyiaku (@Oinyiaku) November 16, 2018
He got reminded that from dust he came.
A harsh reminder that from dust you came & to dust you shall eventually return once you've completed your mission.

— ThePyratez Kydd (@aNaughtyAngel) November 16, 2018
Someone suggested that he could have been breaking the law by not wearing the helmet thats why lots of dust got on his face.
Am not sure if you were wearing a helmet. Might be breaking the law

— Obed Makori (@Omakori) November 16, 2018
One wondered how Gilgil which once so Serene has taken a twist with all the drama it has faced today.
When did we get to this. Gilgil was one of the most beautiful and serene place just a few years ago. Now all that comes out of the place is stories of dust, rapes, insecurity and dirt. 10yrs down and it will be hell. And the people of Gilgil keep voting the same idiots every time

— Rhapsody in Black (@AndrewKabena) November 16, 2018
?????????????????????????????????????????????????????

— Raymond Matata. (@raymondmtetezi) November 16, 2018
Activist cum photojournalist Boniface Mwangi was on Friday banned from attending a National Youth Service (NYS) pass out parade in Gilgil attended by President Uhuru Kenyatta.
According to Mwangi he was briefly arrested for taking pictures of the place that was "chaotic and dirty".
"The chaos, the dirt, police confiscating food, drinks and throwing everything on the floor. No dust bins, no order, and very aggressive language by law enforcers, barking at people. Police, NYS cadets have sticks to push and hit people," he said on social media.
The officers confiscated his camera, deleted the images and then banned him from attending the event.