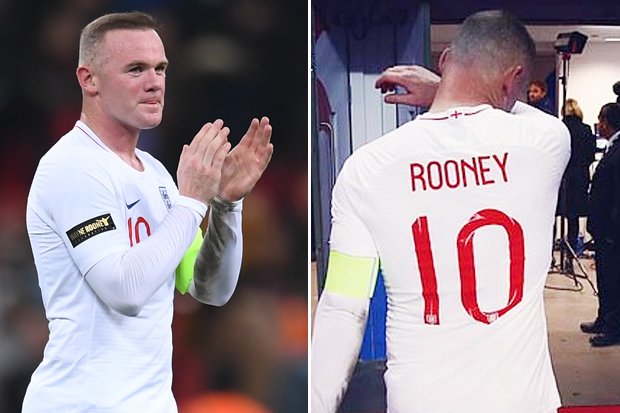 With his 120th and final international cap for England, Wayne Rooney could not help but cry as he gave an emotional speech in the Three Lions' dressing room. In the 3-0 victory over the United States, Rooney played in the second half as he came in as a substitute in the 57th minute – where he immediately wore the captain's armband.
Wayne Rooney was in tears when he addressed England team-mates in the changing room  https://t.co/kUD1wPBnY8 @MailSport

— 🇱🇷DCZKY ⚽🏀🏈☠☡🎧 (@DCZKY1) November 16, 2018
After the game, coach Gareth Southgate revealed what happened in the locker room, saying: "Wayne said that he'd really appreciated the way everyone had made him feel welcome.
"It's difficult to walk back into a dressing room where there are new staff and a lot of players he hadn't played with. But he's been brilliant.
The moment Wayne Rooney came on for his 120th, and final, England appearance here at Wembley. 🏴󠁧󠁢󠁥󠁮󠁧󠁿🙌#ENGUSA #Rooney #ThreeLions pic.twitter.com/rCoLKmbrcA

— Joe Prince-Wright (@JPW_NBCSports) November 15, 2018
"The time he's giving to all the players, the little conversations with some of the younger ones.
"He spoke about what playing for England had meant to him, and what it should mean to the three debutants. The humility he showed in training, tracking back in the five-a-sides as if his life depended on it."
England fans bid an emotional farewell to @WayneRooney after he played his last international game last for his country. @englandfootball pic.twitter.com/GWUziFQcf8

— Jonathon Bromley (@JonBromley1) November 16, 2018
Speaking after the game, Rooney spoke highly of the national squad, saying: "The future is in very safe hands from what I've seen this week.
"On the training pitch and how they're getting coached is brilliant. How they're responding is excellent. It's great group of young players who have a really bright future and I'm sure in the next few years they will go close to being the next team to bring a trophy back for England. I hope they do, it'll be great for the country. I'll be one of them fans supporting them."
https://twitter.com/SoccerNationNg/status/1063331596697255936
Wayne Rooney milli takım kariyerini noktaladı.

🦁 120 maç
⚽ 53 gol
🎯 20 asist pic.twitter.com/33igT6rZlP

— Gzt Spor (@gzt_spor) November 16, 2018