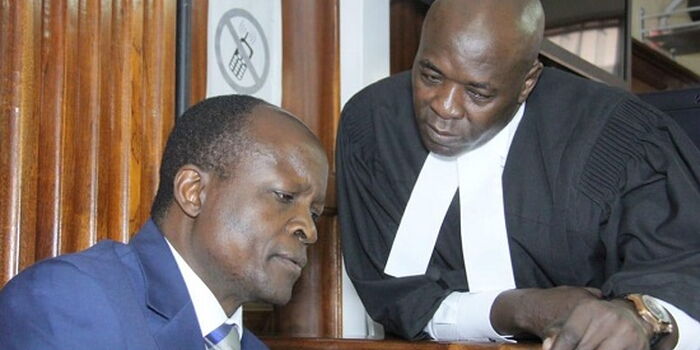 It is now clear that Migori County Governor Okoth Obado will make a return to his second home, the four walls of the prison cell although this time he has 'moved house' and has new room mates.
Barely a month before Okoth Obado was released from the Industrial Area Police Remand, the Governor now makes a return but this time he will be detained at the Gigiri Police Station as per the directive given by Chief Magistrate Joyce Gandani.
Governor Obado was today arraigned in court before Chief Magistrate Joyce Gandani after police recovered eight firearms in his Nairobi and Migori homes. The prosecution led by Ms. Catherine Mwaniki asked the court detain Obado for an additional 15 days to allow them to conduct investigations before pressing against him charges of possession of firearms and ammunition without valid certificates.
"We are asking for 15 days to allow the officers (including ballistics) to travel to his rural home to thoroughly investigate. We will need time to also find out if the firearms were used in any crimes which might lead to other charges," argued Ms. Mwaniki.
Governor Okoth Obado will now spend another night in police custody pending a ruling on whether police will be allowed more time to detain him. The Magistrate directed Obado be detained at the Gigiri Police Station pending a ruling on the matter on Friday.
The governor, who spent Wednesday night at the Gigiri Police Station was arraigned under a miscellaneous application at the Kibra Law Courts.
Obado, through lawyer Rojers Sagana, however, told the court that the said firearms were not subject of dispute as they were verified. The governor further argued that none of the pending investigations against him require his detention terming the application as punishment by public humiliation and embarrassment.
Detectives from EACC staged a five-hour long search in Obado's homes and found documents they believe could aid in an ongoing investigation in the misappropriation of Ksh. 2 billion county funds. It was during the search that detectives found the guns warranting the arrest of the governor.
Do you think the Court will grant the prosecution its plea to detain Obado?