Governor Okoth Obado might land himself in Industrial area again for his sympathetic talk of begging for prayers from the Kenyans. To some extent the governor might have thought that he shuffled well the cards but that is not the case.
Maybe the governor has acquired a shield who is the Deputy President William Ruto that would repel away any foes to his newly acquired freedom.
A section of leaders now want Obado to take back his words on the remarks he made.The leaders have accused Mr Obado of making allusions to a matter before court and warned that this could "cost him his freedom."Some Nyanza ODM leaders were angered by what they termed as 'careless remarks' by Mr Obado.
Mr Obado has lately been accompanying Mr Ruto in political functions in South Nyanza region.On Saturday, the Migori County chief asked Christians across the country to pray for him.
Speaking during a funds drive in Nyabururu Catholic Parish in Kisii County, Mr Obado, who had accompanied the Deputy President, said the prayers would help remove him "from the a crocodile's mouth".
Suna East MP and ODM Director of elections Junet Mohamed said Mr Obado was trying to subvert the case before him through politics.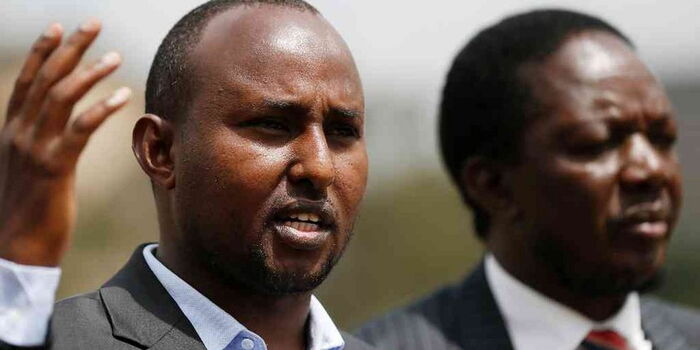 "By saying that he has been thrown into a crocodile's mouth, who is he referring to? The investigators? The prosecution?" wondered Mr Mohamed.
"He doesn't look like someone who has a case before a court of law," said Mr Mohamed.
ODM National Treasurer and former Kitutu Masaba MP Timothy Bosire said that Mr Obado's remarks in Kisii and Nyamira were overreaching.
In Nyamira, Mr Obado accompanied the DP during the launch of the Kemera-Kiendege-Eberege-Gachuba-Keumbu road.
Mr Bosire said Mr Obado had a very important matter which he should first handle.
Mr Bosire said that as an ODM party member, Mr Obado should tackle political issues that might be troubling him.
Kisii Woman Rep Janet Ongera said ODM leader Raila Odinga's 'crocodile phrase' was being taken out of context.
Political observers say that the DP is keen to use this friendship with Mr Obado to raid the political bedrock of opposition chief Mr Odinga.
The political cold war between ODM and Mr Obado is seen to have fueled the DP's moves into the region in which Mr Odinga enjoys a fanatical following.
DO YOU THINK OBADO'S REMARKS ARE MALICIOUS INTENTION CASE INVOLVING SHARON'S MURDER?
————————————————————————————————————————————