Do you remember the days Harambee stars was the joke of the continent in football affairs?
The Red, green and white train keeps on moving with the occupants of its next station being worried about the grueling force it has swept the previous stations.
Having been on a slow trajectory in the past years, the new train is being propelled by one Sebastien Migne. A co-driver in his past driving class under the tutelage of Calude le Roy, the Frenchman is causing havoc in first serious driving job like he has been in the main seat before.
It has been five months since Migne took over the reigns of the national team this after the abrupt departure of Belgian Paul Put. Five months of proper joy and belief from the nations' football fans.
From Nairobi to Bahir in Ethiopia, the momentum seems not to be stopping and we can only enjoy while it lasts. This is the time to take a breath and merry because moments like these have been hardly here with us.
Pushing Kenya on the verge of qualification is an admirable achievement for a man who despite his lack of experience as the main man has shown a ruthless will and a forensic ability to work the smallest details that his predecessors have ignore before.
In the current footballing things can change drastically but right now there is a fair case that, judged on will and desire, Migne has done as much in the job as any of his predecessors.
Kenya Harambee Stars were ranked 105th globally in the latest World FIFA Rankings that was released on 25th October. Next update will come out on Thursday 29th November 2018 https://t.co/q56DT9S256 pic.twitter.com/7ovY09YfE4

— Kenyan F⚽otball (@KenyaPremierLg) November 12, 2018
Forget about the talent at his disposal or the short time he had to access what he had at his disposal, what Migne has created is a real team culture and respect-and it is paying dividends. He has made the local based players feel like they deserve a chance in the national team and the foreign legion aware that putting on the Kenyan flag is more than just a favor.
There is something about this Stars team that gives everyone hope. For once everyone is giving his all. Gone are the days when one would struggle to pluck a single player who gave his all in the Kenyan shirt. Against Ghana it was Dennis Odhiambo, Eric Johanna stepped on the plate when Ethiopia visited home; a game that saw captain Victor Wanyama give one of his best performance in the Stars shirt.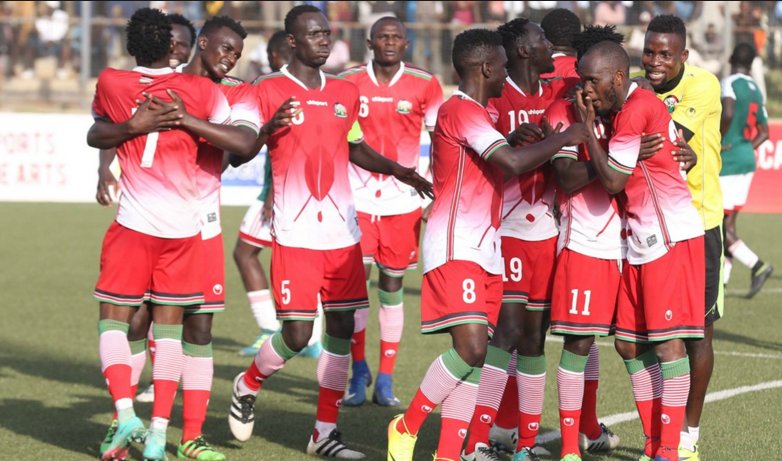 Dropping of big names is something that has caught the attention of close football fans. Zesco United's Anthony Akumu has not been a key figure in the team but the people who have been tasked in his position have done an exemplary work; the same can be said of David 'Cheche' Ochieng. There is just no way you can fault a coach when his tactics are working and people placed in the team are giving an impressive output.
When Ghana came home. There was some grit in the team; total concentration. The home side might have chased shadows for the better part of the afternoon but got the required result. Against Ethiopia away, the grit was there too for all to see. When the Walia Ibex came home they had a hiding; a testimony that Migne knows when to put on the breaks and when to set his side free.
Kenya Captain Victor Wanyama scores a penalty to make it 3-0. Harambee Stars outshining the Ethiopian brothers.#SmokingCountryOnHot On @Hot_96Kenya pic.twitter.com/xfpGfSIfyx

— Jeff Koinange, MBS (@KoinangeJeff) October 14, 2018
Sensible Soccer-that is what Kenya is playing under Migne, a world where if you press B and hold down A, then waggle your stick at just the right moment the same thing just keeps on happening over and over again.
You look at the first two goals Stars scored against Ethiopia on Sunday and you wish to watch the same week in week out. They were beautiful goals from Michael Olunga and Eric Johanna, so ludicrously sweet and pared back it resembled the kind of goal you might score a hundred times a day in a computer game and still feel you need more of it.
It will be a pleasure to see how the decency of Migne's motives and his ideals on how his team should play pans. His first games in charge was surprising going by the call ups he made when the team travelled to India, then the following matches has been admirable and encouraging. Against Ghana, it was a blast. It was real against Ethiopia. It might be a roll in Cameroon in 2019. Who knows?