Were there crocodiles in River Jordan? Well this question will depend on whether you are asking Raila Odinga or DP William Ruto.
According to Raila, the reason why he didn't lead Kenyans to the promised land after last year's general elections was the presence of the dangerous carnivorous in River Jordan. But Ruto has insisted that nowhere, has the Bible quoted crocodiles.
In fact, Ruto who is known to be generous during church fundraisers, has revealed that he wants Kenyans to read the Bible in their own language so they can decide for themselves if there were crocodiles in the Jordan.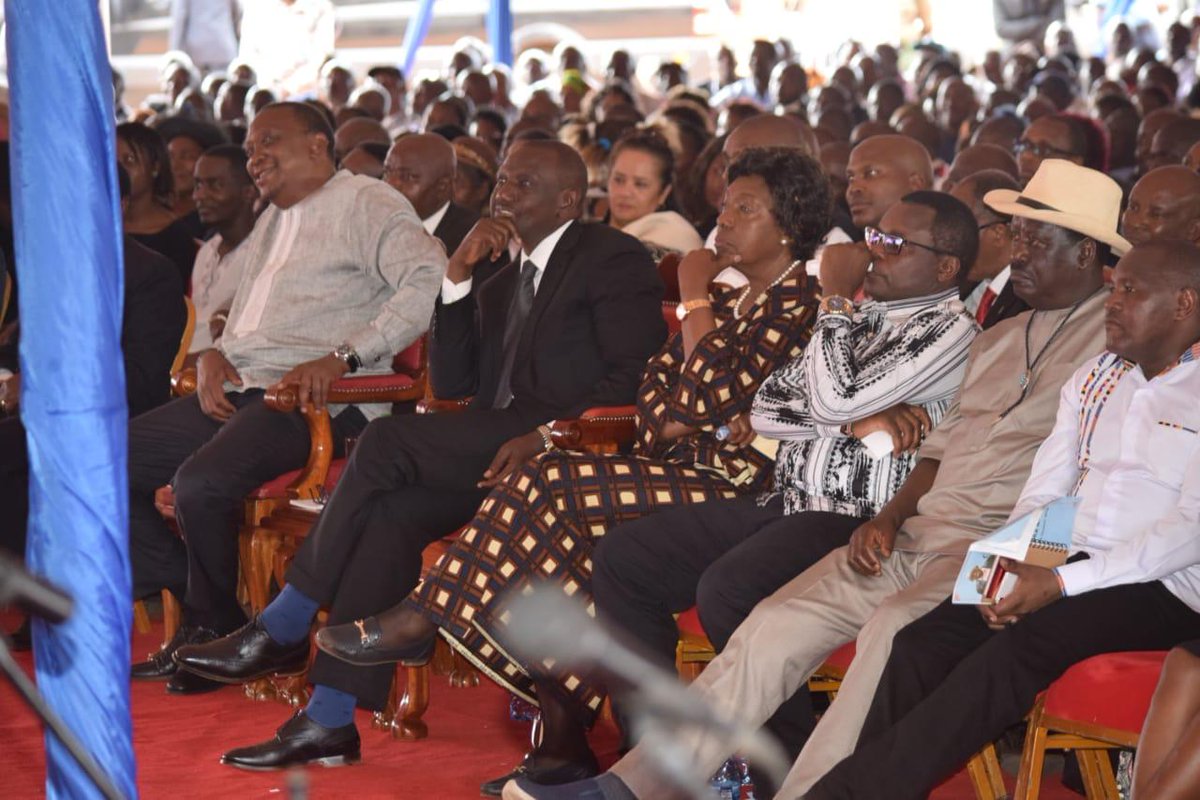 "Hii kitu inasumbua hawa watu; sijui iko mamba ama hakuna mamba…Kama bibilia ingekuwa kwa kila lugha wangejua kama kuna mamba ama hakuna mamba!"
Ruto said on Friday during the burial of Mzee Peter Musyoka, in Tseikuru, Kitui County.
In fact the whole burial was dominated by crocodile politics between Ruto and Raila and their cronies. Raila had said that he and Kalonzo were the Joshua and Caleb who were supposed to lead Kenyans to the promised land.
Earlier on, majority leader Aden Duale had told Raila to spare Kenyans of his mamba narrative.
"Nyinyi mandugu wetu wa ile mrengo ingine tusimame pamoja, msiturejesha huko chini mkitueleza mambo ya mamba. Hii mamba mnatukumbusha kila siku muwache sasa. Hakuna mamba katikati ya Wakenya," Duale said.
Siaya Senator James Orengo, however, accused Duale of underestimating the need to unite Kenyans. "When we come together as a nation, if you don't tell the truth as it is you are going nowhere. If you are telling the truth you are on the pathway to salvation," he said.
"Mamba si binadamu lakini kama unafikiri wewe ni mamba shauri yako wewe," he added. Orengo told Duale not be oversensitive but try to take things lightly.
"Even Mzee Kenyatta said we will forgive but never forget. We all have our own story, if you don't have a story just keep quiet," he added.
The Senate minority leader lauded Uhuru and Raila handshake saying it was the biggest gift for Kenya.
Senate Majority leader Kipchumba Murkomen did not let this go but poked fun at Orengo telling him that the Bible does not state any crocodile in River Jordan.
"Canaan ya Biblia, haikuwa na mamba. Unataka tuseme ile ya hapa tutaweka mamba, hiyo haina shida," he said.
So were there crocodiles in River Jordan?