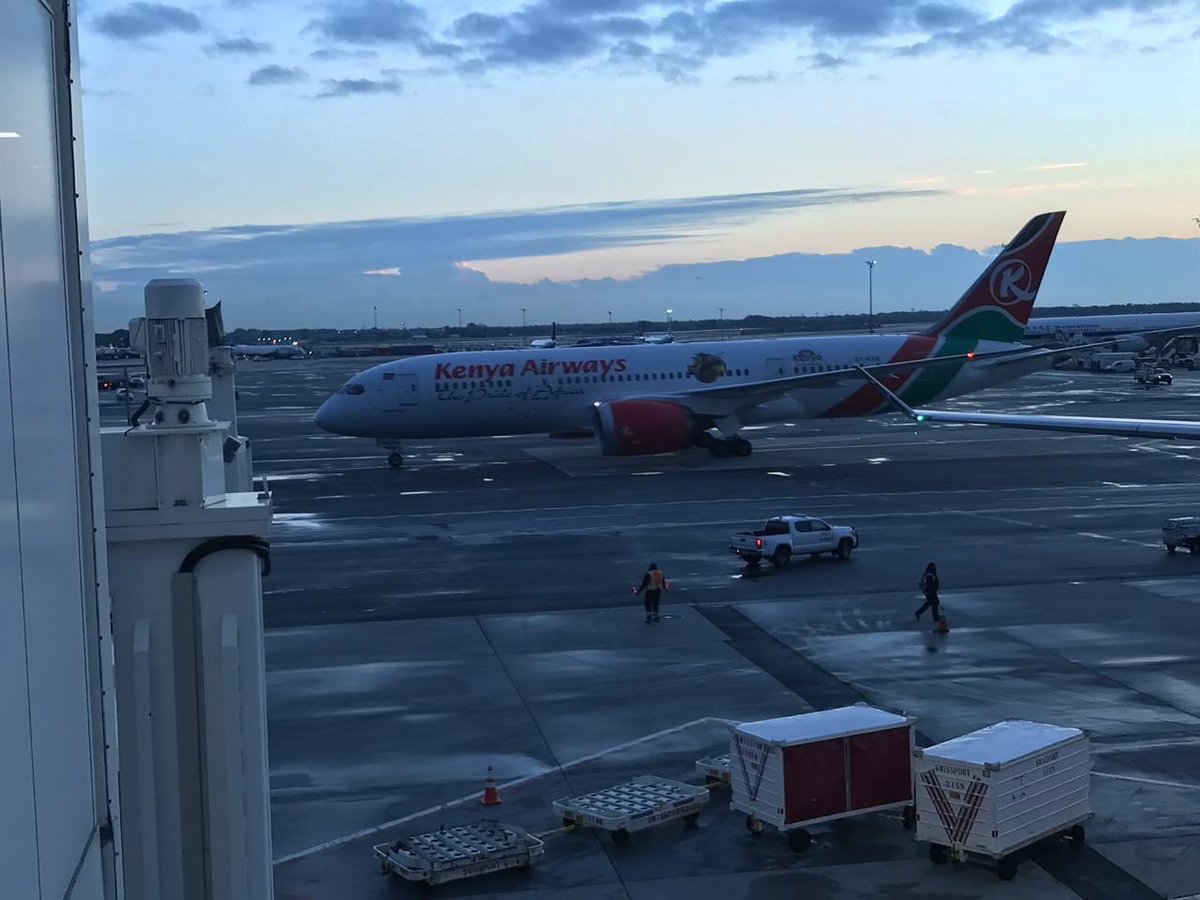 Kenya Airways Boeing 787-8 Dreamliner received the iconic water canon salute upon landing at the JF Kennedy International Airport in New York.
The plane with 234 passengers on board among them senior government officials led by Foreign Affairs CS Dr. Monica Juma and US Ambassador to Kenya Robert Godec, touched down at the airport some minutes after 2.30 pm after being on air for more than 15 hours.
She has Landed! Congratulations @KenyaAirways on your maiden nonstop direct flight to New York! #KQNBONYC #JKIAConnectingTheWorld pic.twitter.com/cn1YGHhMob

— Kenya Airports (@KenyaAirports) October 29, 2018
A water canon salute, which is a touching airport tradition to honor military veterans, foreign dignitaries and new airline service, welcomed our bird to the United States.
Two firefighting rigs sprayed rigs of water for the arriving plane as a sign of honor and respect. And KQ deserves the respect since getting the green light to offer direct flights to the US has not been a walk in the park.
Kenya first applied to be considered a Category 1 country in 2013, but the application was rejected.
A second audit in 2014 saw the rejection upheld, with the US authorities citing several non-compliance issues with Kenya premier airport. Among these that JKIA did not separate its arriving and departing passengers, that there were houses too close to flight paths, and that the airport was not fenced.
JFK's Terminal 4 is ready to receive KQ002, @KenyaAirways' direct flight from Nairobi which is expected to touch down in a few minutes. #JKIAConnectingTheWorld #KQDirectFlight pic.twitter.com/ytYcxlaeyA

— Kenya Airports (@KenyaAirports) October 29, 2018
But in February last year JKIA got things right and the US aviation finally awarded it a Category 1 ranking, qualifying it to operate direct flights to the US.
Then, in September, Kenya Airways was awarded a permit to operate direct flights to the US, paving the way for the Sunday's inaugural flight.
Transport CS James Macharia, Kenya's Ambassador to the US Amb Robinson Githae, and UN representative Lazurus Amayo will receive the plane at JFK.
The return flight from New York to JKIA is expected to depart JF Kennedy at around 8 pm Kenyan time on Monday.
The VIPs who will be on the return flight include KQ Chairman, Amb Godec, CEO of JFKIAT, Obure, Herb Wallen of Boeing and a Senior US govt official who is yet to be named.