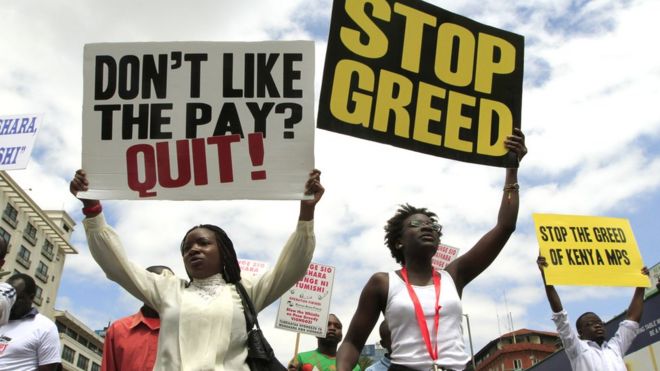 The young citizens of Kenya have admitted corruption has created a heavy toll on the country claiming it must end. They have initiated a campaign on twitter with #YouthKEAgainstCorruption saying something must be done.
Blessed and financially able young people here, kindly organize an event for us somewhere secure and abide by the constitution of Kenya and I will attend the event myself. We pray to God and then plan on how to we can minimize corruption cases in Kenya. #YouthKEAgainstCorruption

— Brian Ndungu (@brianndungu70) October 24, 2018

The state of the Nation which is now heavily debted to China has been declared critical with the billions that the country is losing in the hands of corruption with a new scandal emerging daily.
The latest report by Transparency International on Corruption Perception Index (CPI) ranked Kenya as one of the most corrupt countries in the world.
The country came in at position 139 out of the total 168 countries that were sampled in the study. The struggle to manage and contain the vice in the country, has constantly been slowed down by hurdles with some of the high profile graft cases remaining unresolved over years.
The Government is finally training its guns on maize cartels who profiteered from the scandal at National Cereals and Produce Board.Mr Kiunjuri yesterday asked Ethics and Anti-Corruption Commission (EACC) and Director of Criminal Investigations (DCI) to immediately commence the prosecution of those who have been receiving undue payments that should have gone to farmers.
Corruption is a transmitted disease. We need to help young people connect with one another and create a corrupt-free future. Only the youth have a clear shot at ending corruption once and for all. #YouthKEAgainstCorruption

— Victor Mochere (@VictorMochere) October 24, 2018

Those targeted are accused of having connived with the NCPB officials, infiltrated the process, as there was hardly vetting conducted, and taken advantage of the poor recording systems to swindle in excess of Sh 2 billion using fictitious figures of bags that they pretended to have delivered in silos. Yesterday, Kiunjuri revealed the cartel claimed to have remitted two million 50 kg bags of the overall 6.52 million bags delivered to NCPB

Youth in Africa must start seeing the value and need in the development of a corrupt free society. The youth should set the bar high for old generations to follow.#YouthKEAgainstCorruption

— Victor Mochere (@VictorMochere) October 24, 2018
"In bilateral debt category, the stock of debt from the People's Republic of China grew by 52.8 per cent to Sh 478.6 billion, accounting for 12.1 per cent of the total national government's debt position," said the Kenya National Bureau of Statistics in its 2018 Economic Survey.

As Kenyans continue to count loses and search for this missing cash, we are also being over weighed by foreign debt. According to business daily Kenya's borrowing from China currently stood at Sh 980 billion as at the end of 2017.Only Angola and Ethiopia, who owe China Sh 4.28 trillion and Sh 1.37 trillion in the period under the review, are ahead of Kenya.
China tightened its grip on Kenya's economy, extending about Sh 165 billion in loans last year, latest data shows. This saw the Asian country stretch its lead as the country's largest bilateral lender, with its debt stock increasing by 52.8 per cent to Sh 478.6 billion in 2017, from Sh 313.1 billion in 2016.
When we see a corrupt person being let out without a real trial we should Go to the streets and ask for them to face the law. #YouthKEAgainstCorruption
That's one thing we need as a nation, working together against this vice.

— Manuel ?? (@KoechMmanuel) October 24, 2018
Action is clearly needed to help Kenya in th fight against corruption but whats the best way to tackle it?Should the energetic youths go to the streets?