The scene at St George's Chapel was set once more for a show stopping royal wedding but replacing the Duke and Duchess of Sussex at the altar were Princess Eugenie and her groom.
It was the turn of the Queen's grand daughter and drinks executive Jack Brooks bank to take center stage at Windsor Castle, 146 days after the blockbuster nuptials of Harry and Meghan on a scorching hot May day.
Princess Eugenie is a member of the British royal family, and the younger daughter of Prince Andrew, Duke of York, and Sarah, Duchess of York. She is ninth in line of succession to the British throne, after her elder sister, Princess Beatrice of York.
Princess Eugenie, the 28-year-old daughter of Prince Andrew, kept breaking into a broad smile during the ceremony.
Her dress – with full-length train – was designed by Peter Pilotto and Christopher De Vos, who founded British label Peter Pilotto.
It featured a neckline folding around the shoulders to a low back at the request of the bride, who wanted to show a scar from surgery to correct scoliosis when she was 12.
The ninth in line to the throne was watched by her grandmother, the Queen, and Prince Philip, along with other members of her family.
The Duke and Duchess of Cambridge's children, Prince George and Princess Charlotte, acted as pageboy and bridesmaid.
Charlotte waved enthusiastically at the crowds as they approached the chapel, though negotiating the steps in the high winds proved tricky.
Charlotte struggled to keep balance, while pageboy Louis de Givenchy – son of family friends – took a tumble.
Some of the youngsters were seen giggling and joking before walking down the aisle, appearing to imitate the royal trumpeters.
However, George held his hand over his ear as the musicians heralded Eugenie's arrival.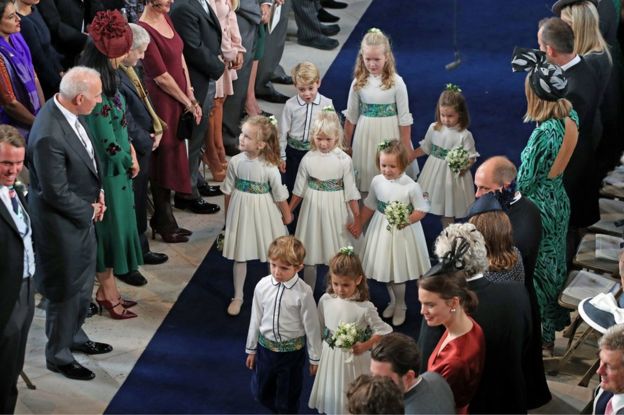 Eugenie's sister, Princess Beatrice, was maid of honour. Mr Brooksbank chose his brother, Thomas, as best man.
Among 850 guests were celebrities such as Cara Delevingne and Robbie Williams, while 1,200 people chosen by ballot followed proceedings from the grounds.
Numerous celebrities braved the weather, including singer Robbie Williams and his fellow X Factor judge Ayda Field, whose daughter Theodora, six, was a bridesmaid.
Singer Ellie Goulding, comedians Stephen Fry and Jack Whitehall and supermodels Kate Moss and Naomi Campbell were in the congregation. Cara Delevingne grabbed the attention of social media commentators with a dashing top hat and tails combination.
The service was also attended by the Duke and Duchess of Cambridge, and the Duke and Duchess of Sussex.
Foliage and flowering branches, sourced locally from Windsor Great Park, with roses, hydrangeas, dahlias and berries, were draped around the church.
Guests held on to their hats in strong winds as the couple left by carriage.Apart from the cooler weather, October 12 looked like a re-enactment of May 19, with perhaps a few more jackets, as guests milled around the Gothic chapel and greeted one another with kisses on both cheeks as they arrived.
The couple travelled by carriage from St George's Chapel into Windsor, before heading for an afternoon reception hosted by the Queen in St George's Hall at the castle.
It was estimated about 3,000 people gathered to cheer Princess Eugenie and her new husband.
Rachel Price-Greenow, from Hereford, admitted she had a tear in her eye watching the couple go by.
"I got emotional!" she said. "I was quite teary. It's just lovely. I love all the pomp and sense of occasion."
Georgina Moroney, from Swindon, said: "I'm a royal geek. It's just all part of our heritage. They're fantastic – I love the romance of it all.
"She looked so radiant."