Nine people have been charged afresh after 10,000 bags of contaminated brown Egyptian sugar were released into the Kenyan market.
This came after the Director of Public Prosecutions Noordin Haji consolidated the culprits cases and accused them separately of releasing bad sugar.
Six of the suspects are from Kenya Revenue Authority and Kenya Bureau of Standards officials as well as three directors of Air Menzies International and Flora Bakers Ltd companies who also appeared before Mombasa Resident Magistrate Christine Ogweno and denied the charges on Monday.
The suspects include KRA custom head verification officer Vivian Moraa Rioba, verification officers Monica Waceke and Stephen Ochieng, Kebs inspection manager Samuel Onjolo, inspection officer Daniel Samuel Musta and Peter Mwadziwe (Kilindini Port health officer) were charged with releasing bad sugar.
Mr Ali Abdi Mohamed (director Air Menzies) and directors of Flora Bakers – Hassan Abdi Mohamed and Abdulahi Abdi Mohamed – were also charged with a similar offence.
Ms Moraa, Ms Waceke, Mr Ochieng, Mr Onjolo, Mr Musta and Mr Mwadziwe were further charged with wilful disobedience of statutory duty, abuse of office and breach of trust.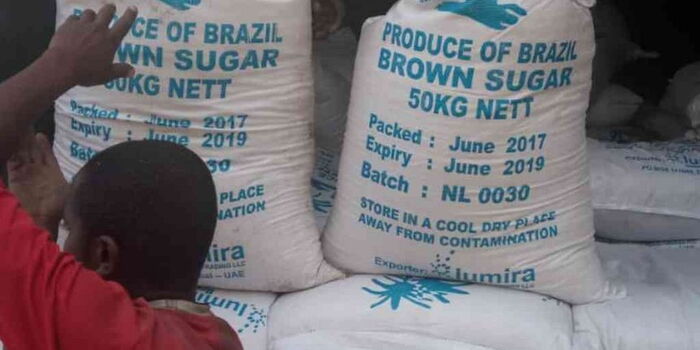 They are accused of wilfully causing to be released to the public 10,000 bags of 50kg bags of sugar that failed to comply with the legal requirements.
In addition to their charges, they are also charged with abuse of office, where they are accused of unlawfully authorising the release of the substandard brown sugar with moisture content and water insoluble matter to Flora Bakers Ltd, both exceeding the Kenya standard which was prejudicial to the public health and safety.
The three are further charged with breach of trust, where as custom officers, unlawfully authorised the release of the contraband sugar to the Flora Bakers Ltd in breach of trust, affecting the standard of health of the public.
Mr Onjolo and Mr Musta are further accused of entering into an agreement permitting release of contaminated goods into the Kenyan market.
The court heard the suspects entered into agreement with Air Menzies to permit the release of the cargo, which failed to comply with Kenyan standards.
Mr Mwadziwe is further charged that as a health officer, he wilfully disobeyed statutory duty by failing to ensure full compliance of Section 30 (11) of the Food, Drugs and Chemical Substances Act by releasing the goods before obtaining a certificate of the results of the analysis of the samples taken from the said bags of sugar from the government chemist.
Flora Bakers limited is said to have imported the contaminated sugar while Air Menzies cleared the sugar when it arrived from Egypt before being stored at Boss Freight Container Station at the Mombasa port.
The offences were allegedly committed between June 29 and July 11, 2018 at Boss Freight Container station, Kilindini port.
The suspects are out on bond. The case is scheduled for hearing on November 28 and 29.