Ivan Gazidis has confirmed his departure from Arsenal and will  join AC Milan. The Arsenal chief executive will leave his role on October 31 to take over the same role at the Italian giants from December 1, where he has been handed a significant increase on his £2.6million a year salary and an equity stake in Milan that could prove to be worth millions more. Here is the message he sent to Arsenal fans:
"For the last 10 years I have been privileged to dedicate myself to this great club. Arsenal is entering a new chapter and I have done everything I can to ensure that it is strongly placed to take on that challenge. This includes world-class facilities and outstanding leaders in every sector who carry the values of the club, including, of course, Unai Emery, Raul Sanllehi and Vinai Venkatesham in whom I have enormous faith.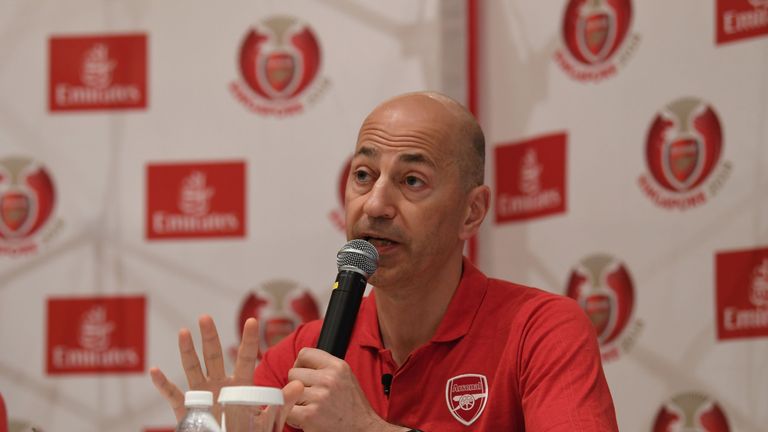 "Given this platform, I know many will think this is a strange time to be leaving but I believe it is the right time for me and for the club. Change and succession is not only inevitable for a club like Arsenal, it is necessary if it is continually to keep moving forward. One of my primary responsibilities as chief executive has been to make sure that there is good succession planning in every position in the club, including my own.
"Although it is very hard to do – the hardest decision of my life – I believe that, after 10 years, it is the right time for me to step aside to allow new leadership, energy and ideas to take the club forward into this exciting new era. I believe in the positive force of change, both for me and for the club. While this is the most difficult and challenging course for me, I am excited to see what the future holds for this great club.
"After so many years at Major League Soccer and Arsenal, I am now looking forward to joining one of the world's other great clubs, AC Milan, and working to restore it to its rightful place in football. Until then, I will continue to devote absolutely all my energy until my last day to ensure an orderly transition for the benefit of Arsenal Football Club."