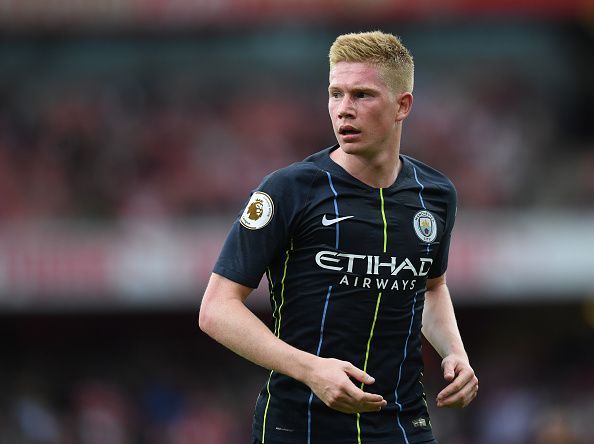 The premier league is one of the most popular leagues among the fans and it never fails to entertain us season after season. In today's football, the midfielder's position is considered to be the most important and toughest part to play as they have to make quick transitions to support both attack and defense that's why many managers tend to spend a big amount of their transfer budget to sign a perfect midfielder.
Christian Eriksen (Tottenham Hotspur)
Christian Eriksen is surely one of the most underrated players in the world but we saw a glimpse of his abilities in the World Cup 2018 as he was Denmark's chief playmaker and organizer of their plays. He is an incredible playmaker and passer of the ball. Last season he managed to score 10 goals and make 10 assists for Mauricio Pochettino's side in EPL.
The 26-year-old Danish attacking midfielder is a delight to watch when he partners with Dele Alli at the core of the Lillywhite's midfield. This year he will be hoping to end the trophy drought for the North London side.
Fabinho (Liverpool)
Last season Liverpool's attack was surely one of the best in the league and they had good defensive players too but one thing that they lacked was a steady midfield. This year Jurgen Klopp signed one of the most promising midfielders in the world, Fabinho.
Fabinho is known as a ball-winning central midfielder. He prefers to play in a more defensive position considering the fact he was a right back in his early days. With his addition to the Liverpool squad, they have surely increased their chances to clinch the PL title.
N'Golo Kante (Chelsea)
After winning the title with Leicester City in 2016 N'Golo Kante was quickly signed by the London side and he is improving by each passing season as he won the Premier League title with Chelsea in 2017 and recently was an elemental part in France's successful World Cup run.
Despite being one of the shortest midfielder, standing at 5 foot 6 inches, he is incredibly efficient at tackling. With his passing skills and speedy runs, he is one of the biggest threats to opposing defenders.
Paul Pogba (Manchester United)
Paul Pogba has everything a midfielder needs; he can shoot well, has amazing dribbling ability, good passing range and he can help his defenders too. Paul Pogba signed for Manchester United in 2016 for a whopping €105 million from Italian giants Juventus.
Many people believe Pogba still has room to improve as he is only 25 years old and is not in his prime yet. Every manager dreams to have a player like him in his squad but recently there are speculations that the Frenchman is unsettled at Manchester United due to his poor relationship with Jose Mourinho.
Kevin De Bruyne (Manchester City)
Manchester City was unrivaled last season as they glided past their opponents with ease and won the 2017-18 Premier League title. Football is a game in which teamwork plays an essential part and the Belgian Kevin De Bruyne is the perfect example of a team player.
De Bruyne finished with 8 goals and 14 assists (most in the league) last season and carried his excellent form into the World cup too. Besides his ability to score and assist, De Bruyne is excellent in creating chances for his teammates.