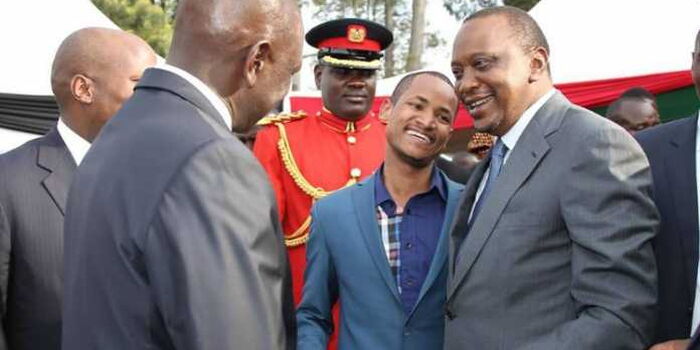 Embakasi East MP Babu Owino has penned down an emotional letter to President Uhuru Kenyatta asking him to suspend the controversial fuel tax because it is too big a burden to Mwananchi.
The following is the letter Babu posted on his official Facebook Page
Your Excellency,
I recall vividly that just over a month ago you made the prudent decision to suspend new projects until old projects are completed. While some circles were critical of this decision, as a young Parliamentarian, I welcomed it as a move that would instill discipline in the Executive arm of Government while ensuring tax payers' money is well spent and accounted for. I also felt that the country had already over extended itself in terms of large capital intensive projects and needed some time to offset existing debt before moving on to new initiatives.
I have since then followed the trajectory of the nation's financial management over the past few weeks with consternation. I note that during your visit to the US, it was made public that your government is borrowing the sum equivalent of 450 billion shillings for the construction of a six lane highway from Mombasa to Nairobi. I further note that in your visit to China, your government has taken on a further 380 billion shillings in debt for the construction of Phase 2A of the Standard Gauge Railway from Naivasha to Kisumu. This totals close to a TRILLION shillings in new debt in the span of ten days.
During this period, we have seen the Treasury Secretary, Henry Rotich, purport to implement an illegal tax on the people of Kenya no doubt to finance our growing debt obligations. I do not hesitate to call the tax illegal because Parliament voted to amend the Finance Bill and suspend the implementation of the proposed sixteen percent value added tax on fuel. Parliament is the supreme law making organ of the land as per the Constitution of Kenya 2010 and as such any attempt by the Executive to levy a tax not approved by the August House is both illegal and unconstitutional.
I therefore write to you on behalf of the young people of our society struggling on a daily basis to make ends meet. I write to you on behalf of our mothers, stretching themselves to the limit, to ensure their families do not sleep hungry. I write to you on behalf of future generations, to whom we have a deep and solemn responsibility not to burden with a hopeless future. I write to you in regard of the untimely sixteen percent value added tax on fuel proposed by your Treasury Secretary.
Your Excellency, as a young person and as a leader, I pledged to support you in your efforts to unite the nation and build bridges. I further pledged to help you secure your legacy in your final term as President in the spirit of your Handshake with my Party Leader, H. E Raila Odinga and indeed, in the spirit of our own personal handshake within the precincts of Parliament during your state of the nation address. I therefore take this opportunity to request you to assent to the Finance (Amendment) Bill 2018 and save our people from the difficult times such a tax promises.
We as Parliament have read the mood of the people and realized that the Bill as initially proposed would portend untold suffering amongst the most vulnerable in our society. Our people are already overburdened with the high cost of living. The introduction of such a tax at this time would only serve to make their lives more unbearable.
I make this request as a father to a fellow father, for the sake of our children and our children's children, let us seek to find innovative ways to reduce public expenditure and wastage instead of raiding the pockets of ordinary wananchi.
I and the youth of this nation look forward to your positive response on this matter.
Yours faithfully,
Hon. Babu Owino,
MP, Embakasi East Constituency,Secretary General Kenya Young Parliamentarians Association &The People's Watchman.