The biggest stumbling broke in  the fight against corruption in Kenya has always been the 'Mtu Wetu Syndrome.' This is where a person steals public funds but when questions are asked about the same funds they run back to their community and say 'our tribe is being targeted.'
But what if the person you're defending with your life is directly stealing from you? How would you feel? Rift Valley produces the largest amount of maize in East Africa, but it is also the region with the poorest farmers in East and Central Africa.
But did you know that almost 90% of employees from the Ministry of Agriculture come from the Kalenjin community. These are the same people who import fake fertilizers for farmers and go ahead to steal KSh six billion from National cereals board.
Farmers from Rift Valley, these are the guys stealing from you! When they steal from NCPB they do it for personal gains and not community!
1. PS Lesiyampe
2. Newton Terer
3. Cornel Kiprotich
4. Caroline Kipchoge
5. Renson Kibet
6. Eric Kipketer
7. Joseph Kipruto

— Lloyd Onyango (@lloydOnyango) August 30, 2018
On Thursday, DPP Noordin Haji exposed the community's leaders for their hypocrisy when he arrested employees of the Ministry of Agriculture in relation to the NCPB scandal.
If the DPP goes for all the directors of NCPB, he might end up arresting all the Kalenjins. This board is more or less like one of those that operates from Uasin Gishu. Never seen a tribalised board like this.

— Bobby (@Bob_Odhiambo) August 30, 2018
Among those arrested was Principal Secretary Richard Lesiyampe and NCPB managing Director Newton Terer. A total of nine people were arrested, all of them from the same community.
And now K.O.T cannot understand how a community can steal from its own people.
NCPB is a Kalenjin Department

Those arrested over Sh11 Billion maize scam

Richard Lesiyampe -Agriculture PS
Cornel Kiprotich -NCPB Finance Manager
Newton Terer -NCPB MD
Caroline Kipchoge Cherono -Accounts Clerk

Others;
Renson Kibet Korir
Kipketer Talum
Joseph Kipruto Cheboi pic.twitter.com/UmYNP0Ct1A

— The Muthoka® (@MuthokaTito) August 30, 2018
Those to be ARRESTED:

-PS Lesiyampe
-Newton Terer
-Cornel Kiprotich
-Caroline Kipchoge
-Renson Kibet
-Eric Kipketer
-Joseph Kipruto
?? at first i thought its our athletics team being announced #NCPB hata hamuwezi consider mluhya mmoja wa kurepresent sembe loyalists??

— eric_darkweb (@ericfoxe98) August 30, 2018
List of NCPB scandal looks like we are going for marathon somewhere. @Bethwel_Onyando@Asamoh_@ItsMutai–
PS Lesiyampe
-Newton Terer
-Cornel Kiprotich
-Caroline Kipchoge
-Renson Kibet
-Eric Kipketer
-Joseph Kipruto

— Morris Odhiambo (@Morris2022) August 30, 2018
Does it mean all the senior NCPB Officials are from the kalenjin community? Where is NCIC…… This inbreeding will yield Mongoloidal cases?? pic.twitter.com/9JwuTUxV9p

— Ike Kenneth (@IkeOjuok) August 30, 2018
The National Cereals and Produce Board (NCPB) is on the spot over some Sh1.9 billion paid to traders who supplied it with huge quantities of maize at the expense of farmers.
Officials said 18 traders colluded with top managers of the board and this saw the billions of shillings paid to them in a month.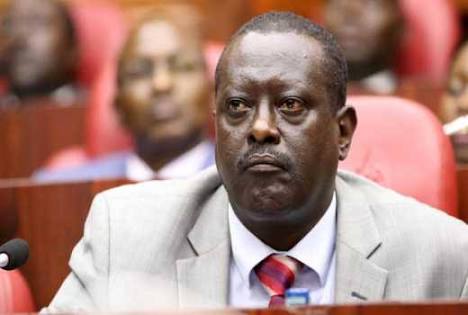 Newton Terer resigned in May after Dr Lesiyampe questioned the dealings at the Parastatal. The matter had been under investigation in the wake of farmers' complaints of non-payment of Sh1.9 billion for produce delivered to NCPB depots.