Former Vice President Kalonzo Musyoka on Wednesday stunned Kenyans when he appeared at the courts to defend Deputy Chief Justice Philomena Mwilu. Kalonzo, who is a lawyer by profession, has not been taking up cases for many years, ostensibly owing to his engagement in politics and other family matters.
He graduated with a Master of Law at the University of Nairobi in December 2016. He attained his Bachelors in 1977. He continued further studies at the Kenya School of Law in 1978 where he was awarded a Postgraduate Diploma in Law.
Kalonzo stood on Wednesday at the Milimani law court and asked the court to block the plea taking of Mwilu. Apart from the Wiper leader, the DCJ was is represented by over 13 top lawyers in the Sh12 million graft charge.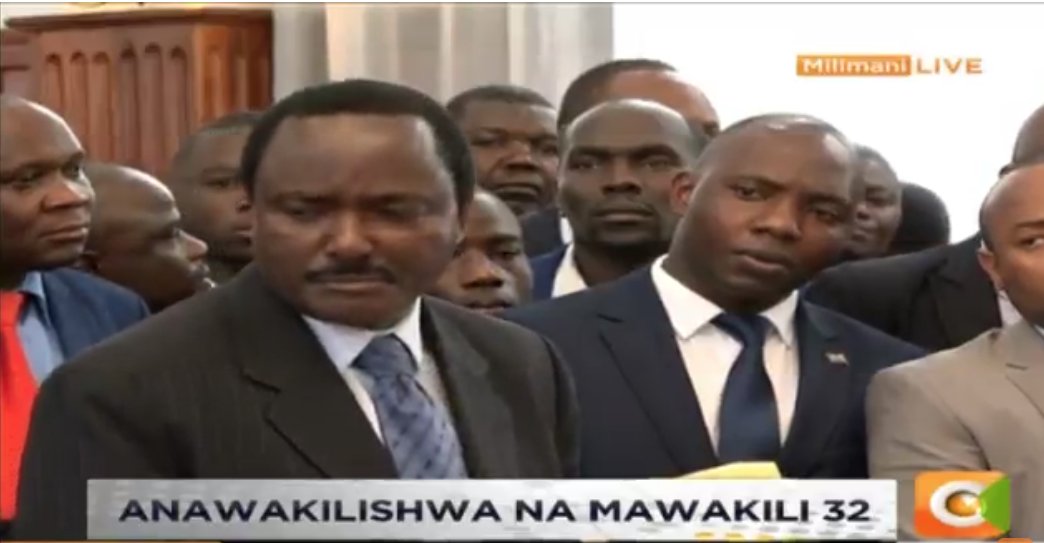 "We know that the fight against corruption is key but the accused may not be called to take a plea at this stage," he said. I wish to concur with the very able submissions made by the Senior Counsel James Orengo because it goes to the core issue of integrity within the judiciary, including its independence."
Kalonzo said under 2010 Constitution, Kenya can pride itself in having strongly addressed the matter of what is contained in the UN Declaration of Human Rights.
"…and these fundamental rights cannot be derogated. I want to stress the provision of the constitution elaborated by senior council that says that the right to fair trial of any citizen is basic," he said.
Kalonzo Musyoka says the fight against corruption should not be used as an excuse to abuse the rights of any citizen, including state officers. #MwiluInCourt pic.twitter.com/8C0O61ht1E

— NTV Kenya (@ntvkenya) August 29, 2018
The lawyer said Mwilu's arrest and subsequent arraignment is of great national importance and should be handled with a lot of care and caution. He told Anti-Corruption Court chief magistrate Lawrence Mugambi that Mwilu has a right to fair hearing.
"I thank the court for according decorum to the DCJ and the court was justified in releasing her on personal bond on Tuesday evening."
Kalonzo Musyoka is among the top lawyers representing Deputy CJ Philomena Mwilu at the High Court. pic.twitter.com/WcxCHoebsM

— Augustine Sang ?? (@Sang_254) August 29, 2018
Lawyer John Khaminwa said the charges being preferred against Mwilu are trumped up, have no meaning, and are "being pushed by certain individuals who are hell-bent on ensuring there is a change in leadership at the Judiciary." Mwilu moved to High Court to block her prosecution in the Sh12m graft case.
She filed the case through her lawyers on Wednesday seeking orders to stop her from taking a plea. The move came hours before she was due to appear for plea taking following her arrest on Tuesday.