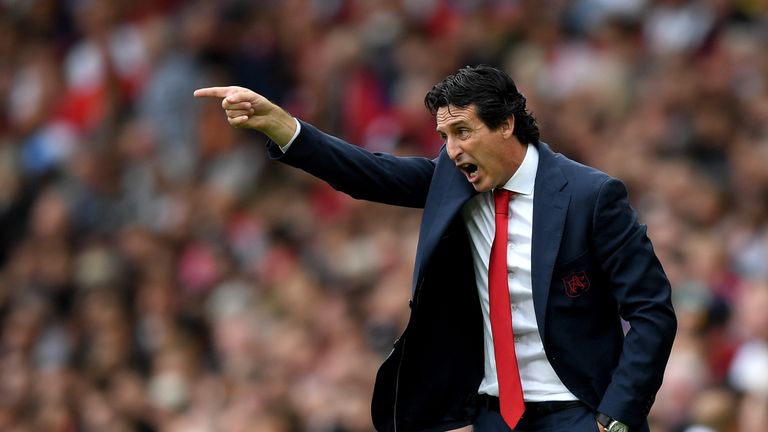 The Spaniard and Arsenal Legend Ian Wright hooked Granit Xhaka at half-time of their defeat to Chelsea and took off Mesut Ozil with 20 minutes remaining although the Gunners were level at that point.
Emery hailed afterwards that he was happy with Ozil's effort and work-rate and declared that both his and Xhaka's withdrawals were tactical decisions with the Swiss midfielder having been on a yellow card.
Arsenal have suffered back-to-back defeats to Manchester City and Chelsea in their opening two Premier League games – their worst ever start to a campaign since the division's rebirth in 1992. But while Emery has come in for some criticism for his role in their losses, with Arsenal struggling to adapt to Emery's philosophy of playing out from the back and utilising a high defensive line, he has been praised for his ruthlessness with substitutions.
By contrast Arsenal manager Wenger was often criticised for not taking off players failing to contribute with the Frenchman accused of misplaced loyalty over some of the players in his squad. And Wright, who played for the club in Wenger's first two of 22 seasons in north London, praised Emery's different way of thinking.
"I think the other day rightly at half-time, which you may not have seen under Arsene Wenger, he [Xhaka] got taken off," Wright said.
"He's frightening me at the moment if it [the ball] goes to him because his confident seems shot.What was good and encouraging was that he made those substitutions, big substitutions for me. Xhaka would have stayed on under Wenger and so would Ozil.
And what that's said now in that dressing is that no one's going to be safe. 'If you don't do what we need you to do, you're coming off'. And I was pleased to see that."
But Wright worries that Emery needs to add more fresh faces – following the five signings he made in his first summer at the club – in order for the squad to fully adjust to his methods.
"It's going to be a massive problem for him because I don't know if he's going to get the kind of monies that he's going to need to make the kind of signings that are going to, hopefully, help him in the positions he's going to need," the former striker continued.
"I was very surprised with the goals that were conceded and the way they were conceded – the high line with no pressure on the ball. Those things for me have got to be eradicated.
"Then you've got to get yourself to the next transfer window and then you can get someone who might be able to come in and implement what you want to do more.
"Because I think you're going to need a few players to come in who are used to playing like that because I don't think a lot of them are."
Arsenal return to action against West Ham tomorrow looking for their first three points of the season against a Hammers side also winless under new management so far.